In January 2023, Pepsi launched their new beverage Starry Soda. This refreshing lemon-lime soft drink was created to compete with existing products like Sprite and 7-Up. To make a splash in the market, Pepsi attended a Jersey Mike's trade show event in Orlando, FL. Their goal at this event was two-fold: First, Pepsi wanted to create an engaging environment to draw in attendees and increase brand recognition. Second, they wanted to establish a partnership with Jersey Mike's and their franchise owners.
Pepsi approached BluEdge with the initial art concept for an exhibit they wanted built for the event. They stated that they were impressed by our unique mix of product offerings and felt we were the right partners for the job. The catch? We would only have 4 days to complete this project and deliver it from New Jersey to Florida.
The Goal
In order to bring Pepsi's art concept to life, BluEdge needed to incorporate a mix of fabrication, wide format graphics, wrapping, and then also provide onsite assembly of a 10' x 20' custom trade show booth for Pepsi. This exhibit would highlight their new Starry Soda soft drink, as well as having two smaller feature sections promoting their Doritos and Pepsi Zero product lines.
BluEdge was also charged with creating some interactive displays that would live in the booth:
A fully-functioning, custom PLINKO board

A "lab" display for their Pepsi Zero product
This exhibit and all its components would then be shipped to the convention center in Orlando where our fabrication team would assemble and dismantle the exhibit on the day of the event.
Production Process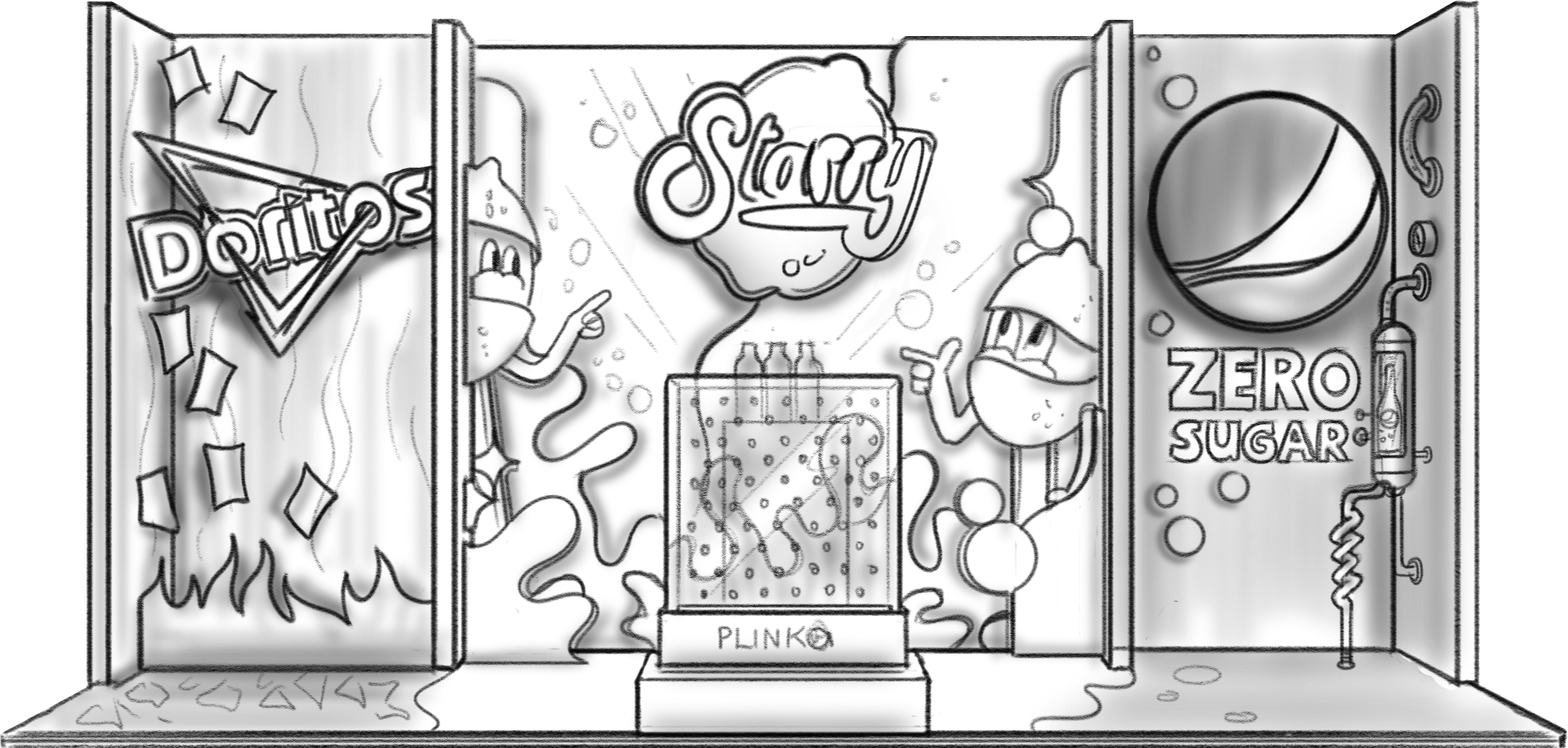 Initial concept art provided by Pepsi.
Although we approach all our projects with enthusiasm, we were particularly excited to take on this challenge. This exhibit for Pepsi was going to be our first major custom fabrication project since moving into our new 60,000 sq. ft. production facility in Carlstadt, NJ. This new space provided the room for BluEdge to invest in new equipment (ex: Waterjet, paint booth, more routers, etc.), as well as allowing for our entire Experiential Environments production team to work together under one roof. The intricacies of the Pepsi trade show exhibit coupled with the tight deadline would be the perfect pressure cooker test to see how our recent investments and changes to BluEdge could really benefit our clients.
Pepsi provided our fabricators with initial concept drawings, specifications, and vector art. Using these items, our fabrication and wide format graphics teams worked in tandem to simultaneously produce all the elements needed to complete the finished product. Our graphics team paid careful attention to Pepsi's color pallet. Since different graphic elements would be printed on different substrates out of different printers, our team pre-pressed and manipulated each file to ensure that all images were perfectly color-matched to Pepsi's "Starry Yellow" and "Starry Green" swatches.
When it came to the two extra fun elements of the booth, the PLINKO game and the Pepsi Zero Sugar display, our team had to get creative to bring these elements to life. When it came to the PLINKO game, things were not as easy as they seemed. While the team had been provided with a concept drawing, they were not provided with actual specs for this element of the booth. There is a lot of engineering involved in ensuring the game works as intended. Some of the major questions that we had to account for:
How wide are the chips? How thick are they?

Are the pegs in the exact right location?

Once you drop a disc, are the outcomes unpredictable enough for the game to be exciting?
After a few rounds of building our PLINKO boards, the team was finally able to get the game working as planned.
As for the Pepsi Zero Sugar display, it was meant to feel like a "wacky lab creation". Again, without specs, our team was free to run with their imagination. They took a trip to a local hardware store, bought some piping and other materials, and went to town creating a lighted, kooky, display that could house a 20oz Pepsi Zero bottle.
Installation Process
Before shipping the exhibit to Orlando, FL, our fabrication team made sure to set up the booth and all its components in our Carlstadt, NJ facility. The team made sure everything fit together perfectly and made any last-minute adjustments to ensure that there were no surprises once they arrived on the trade show floor. We wanted to make sure that the people who knew the exhibit best were the ones who would be onsite, so we sent Brian Hamilton, Director of Experiential Design & Fabrication, as well as one of his associates, to be onsite.
As with all aspects of this project, the event itself was quite fast. The exhibit's installation took place on March 5th from 8:00 AM – 4:00 PM. The booth was then taken down the same day between 5:00 PM and 11:00 PM.
Challenges
There were several factors that made this project particularly challenging. For starters, the timeline for this project was extremely condensed. From the time BluEdge received the artwork, we only had FOUR DAYS to fabricate, print, wrap, engineer, ship, and assemble this exhibit. But through hard-work, long nights, expert project management, and a lot of caffeine, the team was able to pull it off.
Another unexpected challenge was creating the PLINKO game. Although a seemingly simple concept – a board with some pegs – there was a surprising amount of engineering and math involved in figuring out the right dowel sizes and peg spacing to make the game entertaining and unpredictable. In fact, when testing the first version of the PLINKO board, the fabrication team was dismayed to find that all the pegs fell right off. However, after some trial and error, the team was able to build an old-school interactive game that drew in an excited crowd.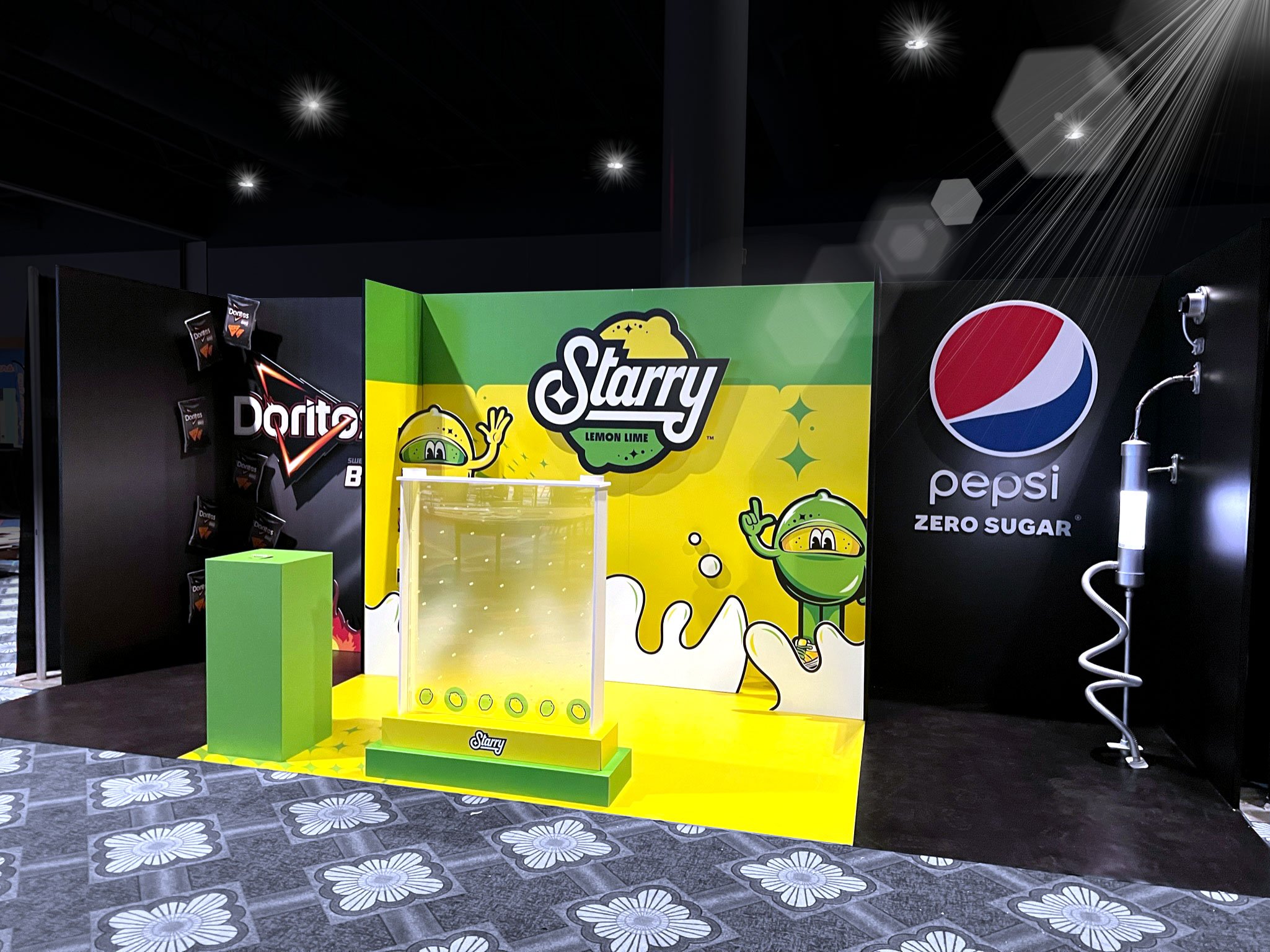 Exhibit on display in Orlando, FL
Conclusion
"We want to express our appreciation for your team in the fabrication of the booth design and PLINKO, everything looked amazing exactly as we envisioned."
Due to the success of this exhibit, Pepsi has enlisted us for some future projects. We are so excited to see what other exciting challenges this new partnership brings our way!
---
About BluEdge
BluEdge is a national provider of comprehensive Managed Print & IT Services, Creative Graphics, Reprographics & Document Services, and 3D Services, and has been supporting clients since our establishment in 1898. BluEdge has been family-owned and operated for over 120 years and is proud to be a certified Woman Business Enterprise.
BluEdge has six locations in Carlstadt, NJ, New York, NY, Boston, MA, Philadelphia, PA, Washington, D.C., and Chicago, IL.
Have an Upcoming Experiential Marketing Project?
Send us a message and one of our experts will get back to you shortly.
Topics: Case Study, Experiential Graphics, Branding, Fabrication