In the weeks leading up to the 2023 school year, BluEdge collaborated with Dentsu, an agency giant in advertising and PR, to produce influencer packages for Walmart's social media campaign that celebrated the bond between college students and their parents. The campaign's objective was to send a ripple of kindness across families as students made their way or returned to college life. Walmart's Parent Care Package campaign did just that.
Walmart's #ParentCarePackage Campaign
The #ParentCarePackage campaign sent a beacon of warmth in the social media realm. Walmart, known for its retail prowess, collaborated with Dentsu to set the stage for a campaign that would touch the hearts of millions.
Parent Care Packages were curated and designed for influencer marketing. A total of 12 boxes were sent to "parent influencers" who would then shared their reactions through unboxing videos on social media platforms like TikTok and Instagram. These videos captured the heartwarming moments of parents opening their care packages, their expressions brimming with joy.
Three versions of the Parent Care Packages were created: "Living My Best Life", "Checking in Again", and "What Do I Do Now?" They were not just boxes but bundles of joy, aiming to make parents feel valued and thought of as their children headed off to college.
BluEdge's Role
BluEdge collaborated with Dentsu to create the three variations of the Parent Care Packages, each filled with a selection of 6-7 products chosen to bring joy, entertainment, and a feeling of closeness to parents. The packages featured items like the MEE Bluetooth Headphone Transmitter, Floating Drink Holder, Bose SoundLink Revolve Speaker, Karaoke Microphone, Roku Video Doorbel, Oversized Wearable Blanket, Nostalgia 4-quart Ice Cream Maker, amongst other items.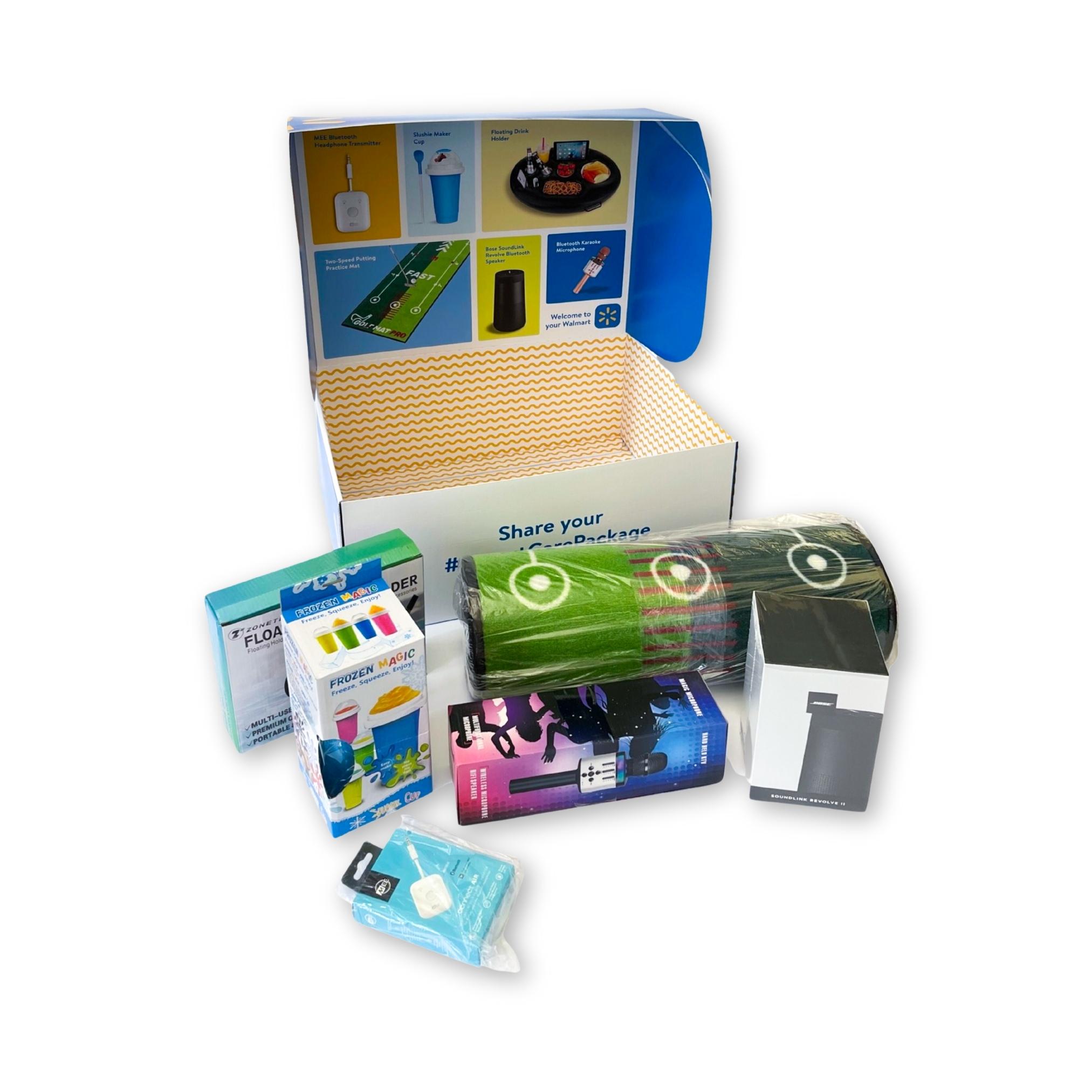 BluEdge's specific contribution involved producing the physical boxes and notecards, meticulously packaging the products, and dispatching them to the selected parent influencers. The Comps and Realization team at BluEdge produced the 12 boxes, with four units for each of the three variations. Adhering to precise size and material specifications, we produced the flat-packed boxes, assembled them into their final forms, and then carefully filled each one with the designated products. Once wrapped, the packages were off to their new homes.
Displayed below are the dielines for each box variation, complete with size and assembly specifications, to provide a clearer understanding of their creation: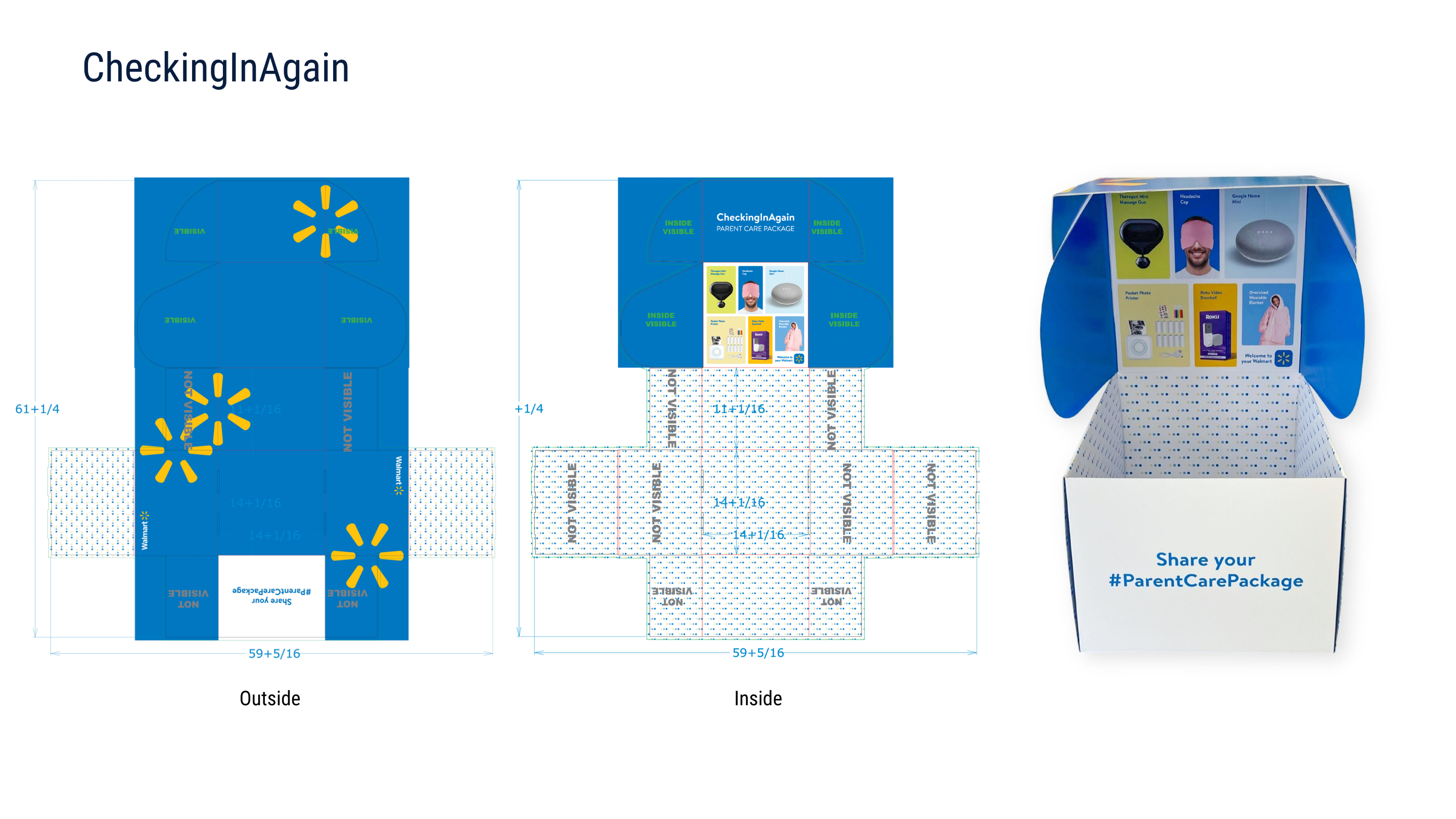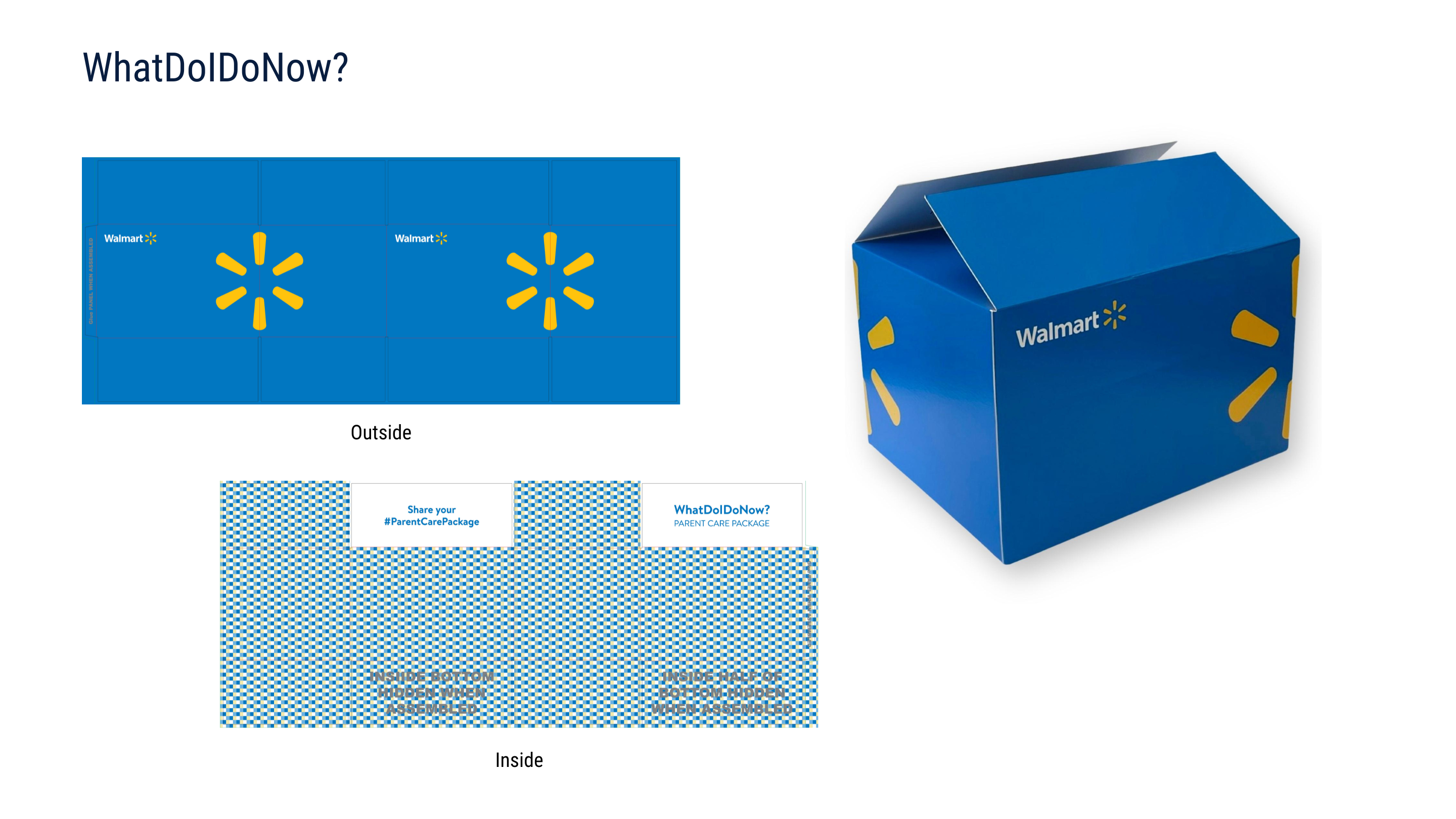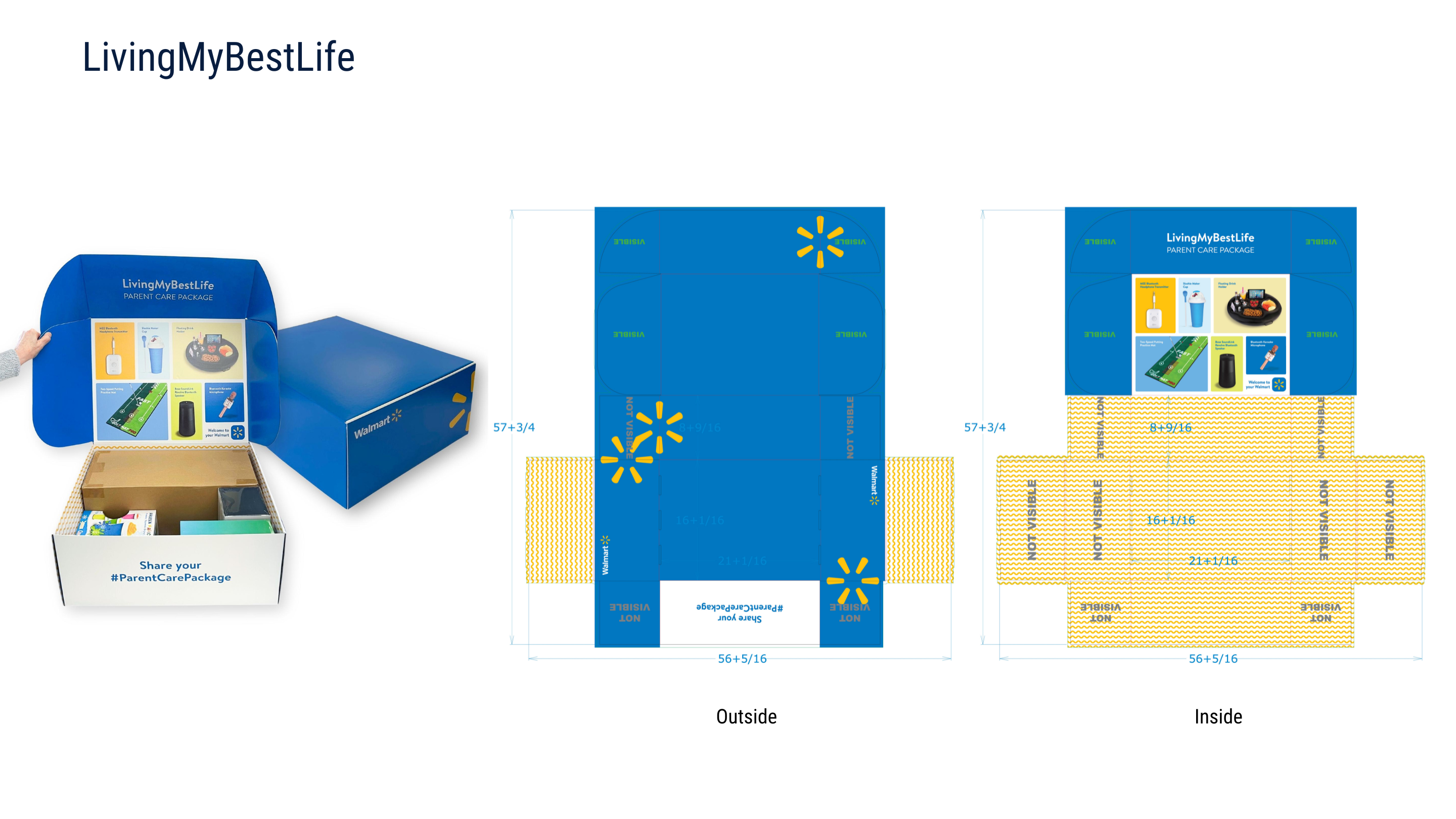 Printed cards with a message from Walmart for each package: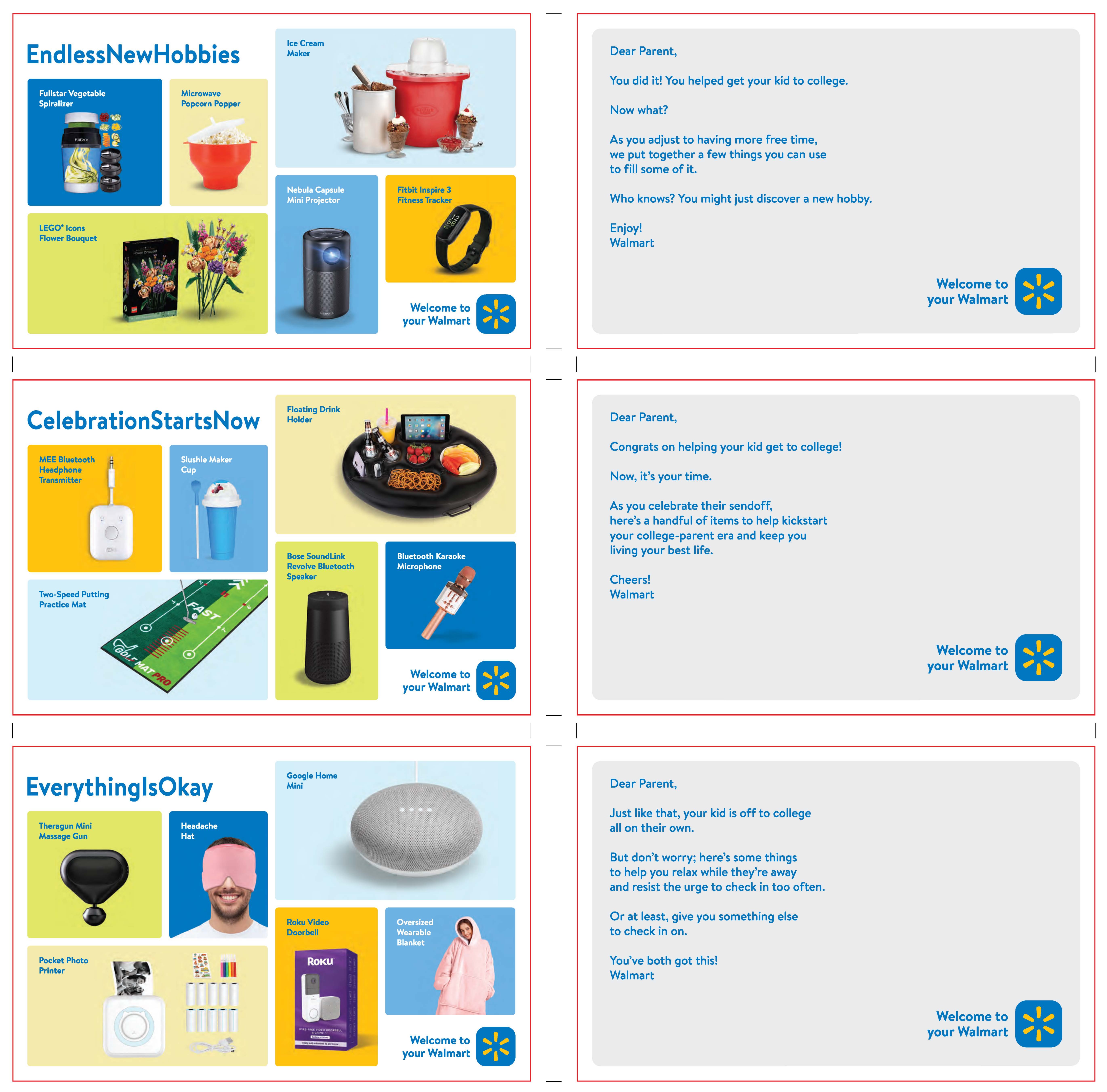 The Craft Behind the Campaign
The campaign's soul lay in its execution, where our Comps and Realization team carefully produced and shipped these parcels of love. Every box was wrapped and ready to make parents smile. The entire process from production to delivery took only about 1 week, a testament to our team's commitment and efficiency. The result was a seamless, successful campaign that not only met the project's deadline but also exceeded expectations in its delivery and impact.
#ParentCarePackage Social Media Buzz
In an effort to generate excitement and foster engagement, Walmart posted four videos on both TikTok and Instagram, featuring parents as they opened their #ParentCarePackages. Coinciding with parent influencers sharing their own unboxing experiences, these videos created a significant buzz, garnering tens of millions of views across both platforms.
Here's a glimpse into the content of these videos, which mirrors the campaign's heartwarming theme: From parents playfully wondering, "What do I do now?" as their kids leave for college to the loving nudge for parents to embrace a new hobby or simply relax. Each video encouraged viewers to tag their parents, sparking conversations and bringing the campaign's message into the comments section.
A Message That Resonated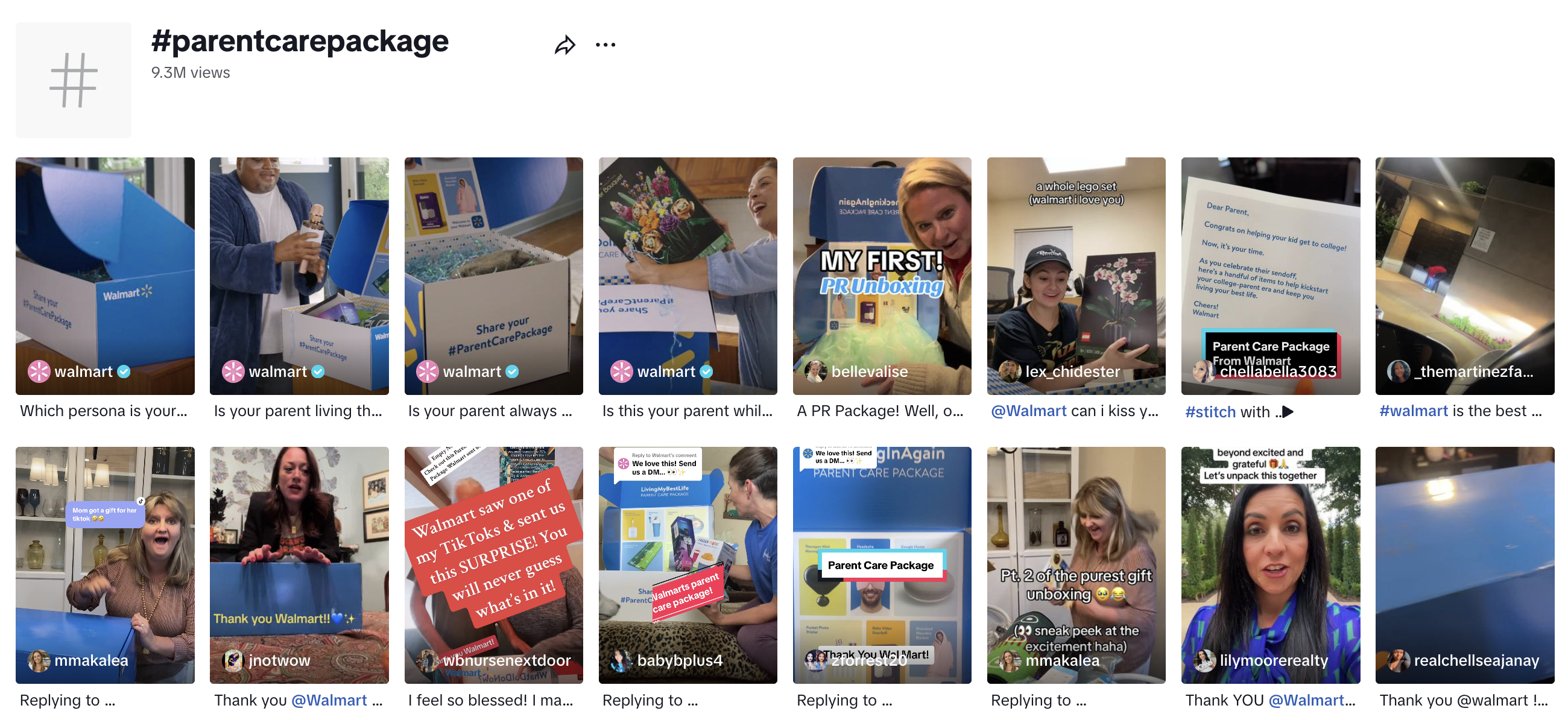 What set this campaign apart was its core message: the act of giving, a simple yet profound gesture to show parents they are always in their children's thoughts. The social media campaign resonated with this sentiment, showcasing parents unwrapping their surprises with captions that invited the audience to join in this celebration of family bonds.
Moments of Joy Shared Online
Each video invited college students to engage with the posts and share their love with their parents. The hashtag #ParentCarePackage became a symbol of this shared experience, a virtual embrace that stretched across cities and campuses.
The Lasting Impact
Walmart's Parent Care Package campaign was more than just a marketing initiative. It was a celebration of parental love, a thoughtful gesture that turned into a social media sensation, and a reminder that no matter where we are, the heart of the home beats strong.
Topics: Case Study, Branding, Comp & Mockup, Experiential Marketing